Rabbit Rock is located in Big Flats Township, Adams County of Central Wisconsin right on State Highway 13. This popular rock formation is one of 23 formation in Adams WI. Rabbit Rock is also a wayside open to the public in the summer months and is just north of Big Roche-A-Cri Lake.
Photos / Pictures of Rabbit Rock
Looking Up! Big Crack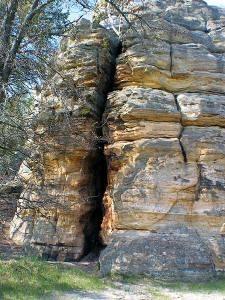 From the Parking Lot Easy to Climb
Photos & Pictures from Rabbit Rock of Cottonville fire on May 5th 2005
Photograph of Wisconsin's worst wildfire in 25 years from Rabbit Rock.
Looking Down Rabbit Rock - Diffused Glow Photo