Click Here for: Print Friendly Map
Click Here for: Print Friendly Map
Resources for Cottonville Fire Victims - Click Here
Red Cross Donation Line 800-939-4052
Red Cross Online: http://portagewi.redcross.org/donate.html
Money donations are being welcomed now. Other ways of helping may
be asked for later as some families have lost nearly everything in the
fire but for now, just money is needed.
---
All of us here at Landman Realty LLC wish to thank everyone involved in the efforts to extinguish the Cottonville Fire, provide help, support & information for area residents and landowners. We want to thank everyone for their continued efforts and generosity. Special thanks to our local radio station K106.FM who always provides our community with updated information especially in times of crisis. Monetary donations to the Adams County Treasurer or Red Cross will be welcomed.
Red Cross Online: http://portagewi.redcross.org/donate.html
Adams County Treasurer: P.O. Box 470 Friendship, WI. 53934
Salvation Army is accepting donations starting Saturday May 7th 2005 at the Adams County Fairgrounds. No clothing or appliances please.
Thanks so much everybody!
---
Help Prevent Forest Fires by Getting Informed.
Click Here: Wisconsin DNR
---
Video: http://nbc15.madison.com/news/headlines/1549427.html
---
Pineland School Shelter 608-564-7424
All families affected by the fire are asked to check into the Pineland
School shelter. (As of May 6th 2005) Do not go back to your homes. The area is blocked
off for safety reasons. Call the number above.
Governor Doyle will be at the Pineland School Shelter about 11 AM
this morning to discuss the situation and what is needed.
Big Flats Church Shelter 715-824-3285
---
Local Radio Station http://www.wdkmfm.com/phpweb/
10:00 am May 6th 2005 The Evacuation Area is still off limits to the general public.
12:30am May 6th 100% Contained
At 10:30 pm Over 3,800 Acres have been consumed by flames.
At 10:00 pm Pineland School Shelter said that some families lost everything and on May 6th 2005 they will start taking donations in cooperation with the Red Cross.

At 9:30 pm on May 5th, 2005 State Troopers said that they have 75% of the fire contained.

May 5th 2005: 7:00 pm Over 1,400 Acres burned in the Big Flats area close to Cottonville Ave and 10th Ave in Adams County, Central Wisconsin.
Photos may not be copied with out written consent of Creativity Imagined LLC 888-339-0607
Cottonville Wildfire Wisconsin Photos / Pictures

Pictures after the wildfire ran through Big Flats, WI.
Photo of a home and truck after the Cottonville Fire.
May 6th 2005 the day after the wildfire was started.
Small fires and smoldering trees still remain.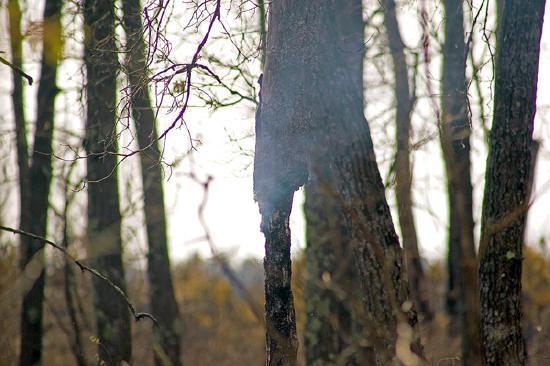 May 5th 2005 - Day of Cottonville fire in Big Flats, Adams WI.
Photo Taken From: Roche-A-Cri State Park.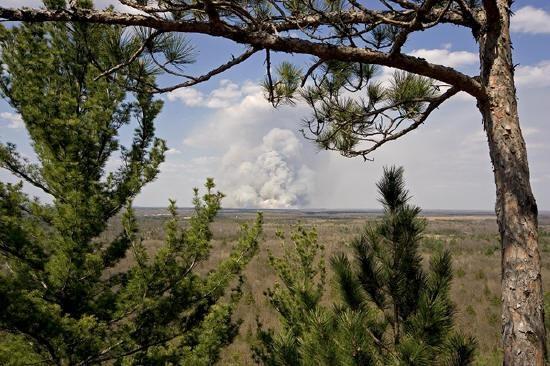 Photo Taken From: Roche-A-Cri State Park.
Photo Taken From: Rabbit Rock Hwy 13
Photo Taken From: Rabbit Rock Hwy 13
Photo Taken From: Rabbit Rock Hwy 13
Photo Taken From: Hwy 21 & Hwy 13
Photo Taken From: Hwy 13 & County C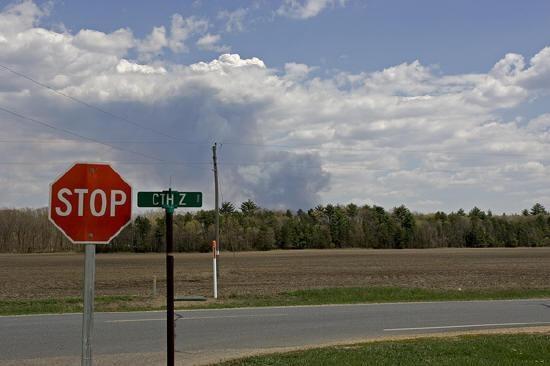 Photo Taken From: County Rd Z & Beaver Dr.
Photo Taken From: Chicago Ave
Photo Taken From: Chicago Ave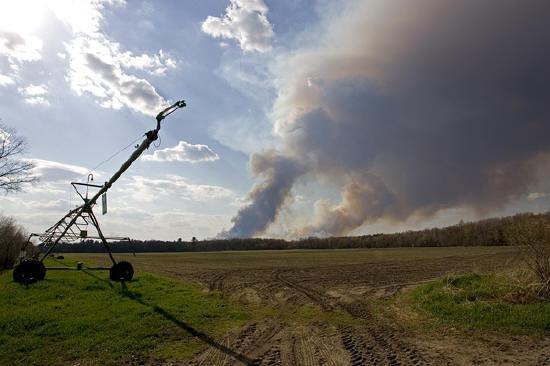 Photo Taken From: Chicago Ave
Photo Taken From: 3rd Ave by Hwy 21
Photo Taken From: Rabbit Rock Hwy 13
Photo Taken From: Chicago Ave (Fire Bomber Plane)